Capricorn constellation on What's Your Sign
I'm very excited to be featured in the latest issue of Holla Knits. With a focus on items you can knit for your home, it's filled with fun patterns that are the perfect complement to this warmest of knitting seasons. Cause really, if it's possible, I'd totally be knitting on something small and portable in the hot hot heat of summer!
My pattern,
What's Your Sign
, is all about astrology.
Now, if you've read my blog before,
you may know I get a kick
out of the baseless personality profiles of the zodiac. It's fun! Imagine if it were
that
easy to know someone's personality!
And it doesn't matter what your view on the astrological signs are: just about everybody knows where their birthday falls. What's Your Sign makes a great gift for just that reason. It's a small, portable knit that's great for gift-giving (and for keeping for you too!). You get a does of relaxing stockinette and simple texture, plus the healthy dose of duplicate stitch for those pretty constellations.
I'm quite excited to offer
TWO giveaways
on this blog tour stop!
FIRST: The pattern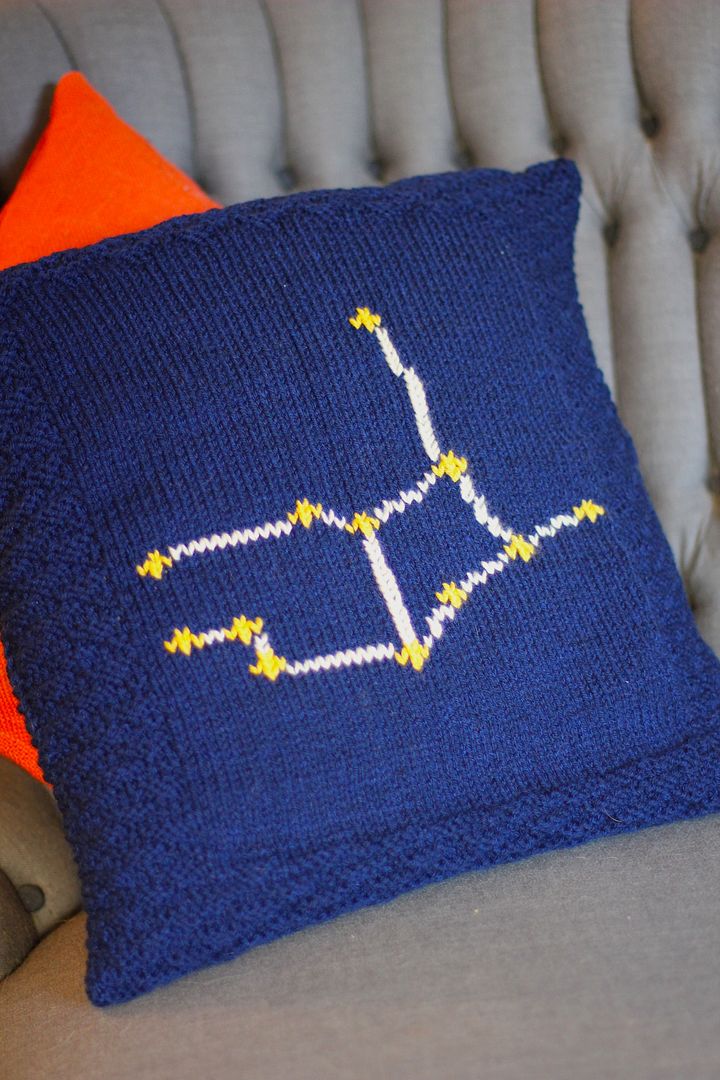 Virgo constellation on What's Your Sign

Want to win a copy? Just comment on this post with the word "pattern".
SECOND: The personalized horoscope reading
Put me to work for you! I'll comb the internet and my copious astrology book collection to gather all the data about your birthday! Want to win this prize? Just comment on this post with the word "zodiac".
Winner will be drawn on Monday July 21.
Click over to the Holla Knits blog for more on
What's Your Sign
.
Keep up with the rest of the blog tour!
July 7: Launch
July 8:
The Sweatshop of Love
- pattern giveaway and SEG: Kit
July 9:
Jean Chung
- pattern giveaway
July 10:
Emily Ringleman
- SEG: Kit
July 11:
Klever Knits
- Louet Linen skein of winner's choice + pattern SEG: 4 skeins CotLin in Canary
July 14:
Canary Knit
s - an amateur's personalized horoscope for one winner
July 15:
Louet Blog
- pattern giveaway
July 16:
Laura McDougal
- pattern giveaway
July 17:
Knits in Class
- pattern giveaway