Having waited a few weeks for the cross-city bus-tacular journey, I've now just returned from my trip to the sewing/textiles district and have the booty here for display. My poor semi-neglected almost-knit is thisclose to completion, but requires some extra input.
Being the way I am, one choice couldn't be made in the store. I must call on everyone's input, and ask for a hand in selecting which button best complements this yarn.
Also, I love the wee buttons decorating the street signs, seen here:
Incidentally, I needed to photog the various thematic decor sprinkled through the district.
I'm a fan of this colourful addition to the streetscape.
Now, on to those buttons.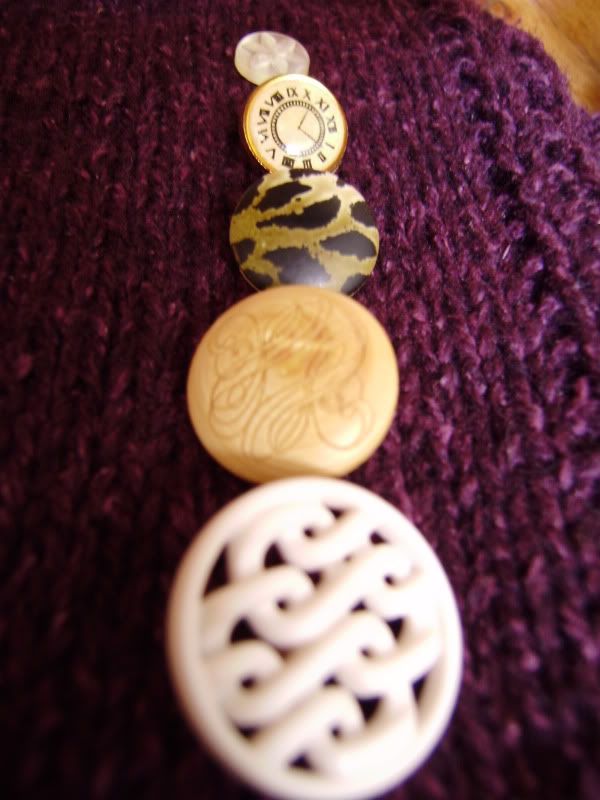 From furthest away, moving forward:
1 - plain old semi-transparent white plastic, with a bit of a flower pattern cut on top.
2 - cool shanked yellowish (well, almost sepia-toned) button with Roman numeral clock design
3 - plastic shanked leopard print (closest to what I had originally been thinking of for this knit)
4 - pretty light-coloured shanked wood button with scroll pattern incised on top
5 - opaque white plastic shanked button with neato twistys
As you can probably tell, they're all different sizes. I do believe I can work with them all, though I might be pushing it with the smallest, #1.
The whimsical #2 has a pretty high unique/cool factor, but I only have three of them and I might need for. Well, four might be preferable.
Numbers #4 and #5 are quite pretty, but I wonder if they're too light, and perhaps stand out too much against the purpley yarn?
Thanks in advance for all input! I'm looking forward to this as an autumn knit, so I've a few weeks to make up my mind and complete it.