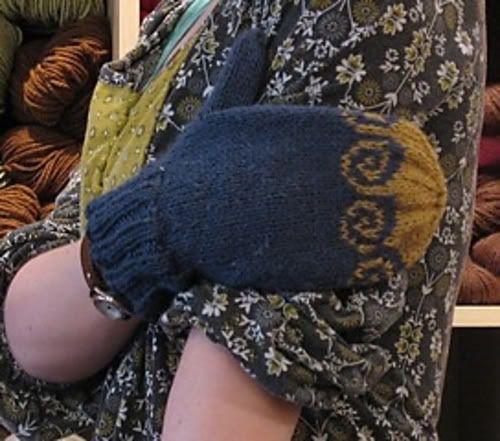 Designer: Kelly McClure
Blog:
bohoknits Patterns
Etsy Shop:
Bohoknits
Rav ID:
bohoknits
Some Great Designs:
bohoknits Rav Designer Page
Being just a little too anxious for autumn to arrive, I thought this week would be an appropriate time to present a designer with a great collection of chilly time designs.
Bohoknits has many lovely cool-weather pieces. First we have the very pretty
Hemp Whirlpool Mittens
(pictured). With a very pretty swirl motif, these mitts have the perfect amount of colourwork for the beginner colourworker :) And will give you an attractive and functional FO!
The temptingly textured and beribboned
Mediterranean Tulle Wrap
is another relaxing knit, and is generously offered for gratis!
She has numerous designs, and I can only mention a few here, but I'll direct you to two cool hats,
Oceana Toque
(crochet) and
Sockhead Hat
. Keeping with the practical and fashionable spirit of her designs, Bohoknits has written the Oceana Toque so that you can use any yarn from a sport to bulky weight, and to fit any head size. I particularly appreciate the nod (heh) to head-size variety. Sockhead Hat is yet another practical, functional, simply constructed and wonderfully cute design, with leagues of stockinette, perfect for tv watching/knitting!
Make sure to check out her etsy shop. It's chock full of patterns as well as finished knits for all ages.
And here's a great bit of insight into her design process:
"I believe my personality, being a strange mix of perfectionism and uninhibited creativity, is perfectly suited to the craft of knitting. Although my pieces are very precise and accurate, my process is often organic and scattered. I tend to start many designs and pieces at once and it isn't unusual to find me surrounded by many partial projects, and even more books, magazines, and notebooks."
And how, fellow knitter!
Fingers crossed for the coolness, so that we can all start to sport lovely fall/winter knits like Bohoknits' :)