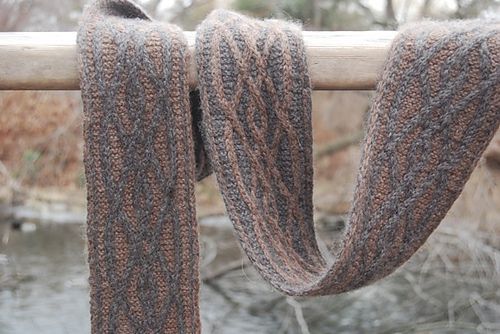 Designer: Michael Dworjan
Rav ID:
Aptenoknits
Some Great Designs:
Aptenoknits' Rav Designer Page
I have to say I'm a bit inspired by the knitting ethos of this week's designer: " I like to pioneer new techniques, especially if they're thought to be impossible."
Brave! And I can certainly understand the drive, myself.
And you can see that interest in both of his pieces I'll feature here:
The pictured
Six Braid Wedding Ring Scarf
includes the advanced techniques of double-knitting colourwork (making this a reversible scarf) and cables. Inspired by his wedding ring, this scarf's tracery-like cables intertwine physically through colour and texture. It's beautiful on its own, and fascinating to imagine knitting. But fear not; if you've never attempted these techniques, but need one of these scarves for yourself, he's included a photo tutorial.
Flipping For Pine Cones
: This is a double-knitting and lace scarf. Yep, double-knitting AND lace. It creates a really cool effect that I'm quite a fan of.
____________
Exciting ETA!
Latest news from the designer:
Beetles and Combs
is his latest piece, and it's a bulky weight reversible and versatile wrap. I love that texture! And can you believe this: it's designed so that there's lace on one side and cables on the other. How cool is that?!
Look for a new pattern from Aptenoknits in the coming months in Love of Knitting magazine, and one with Cephalopod Yarns! Ooo, I love their stuff. Looking forward to seeing them!