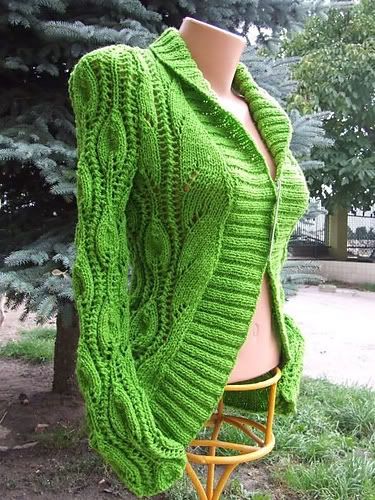 Designer: Margaret
Blog:
W Czasie Wolnym
Rav ID:
antymalgo
Some Great Designs:
antymalgo's Rav Projects Page
Though antymalgo has posted only six knits on her Rav Projects Page, I think they're a wonderful example of a designer's unique, and signature, style.
Pictured right is her
green leafs
cardigan. A wonderful use of large lace texture with garment shape. I particularly enjoy the way the leaves "fade out" along the neckline; a rather graceful way to end/begin a continuous lace pattern.
Her flair with necklines is continued with her
white sweater
, which features an all-over lace scallop pattern, extending up into a voluminous turtleneck. Here she's understood the importance of lace and shape: the layers of neckline and scalloped lace are a perfect marriage of design elements.
The
simple white
has my favourite neckline of the three. It's retro-glam with its extra-long-wave-of-a-fold that curls up behind your neck. I'm sure that it would do a fantastic job of framing the wearer's face and adding some chic-itude to your outfit!
The designer informs me her blog will be in English soon.