Here's one that was a mighty monkey on me back.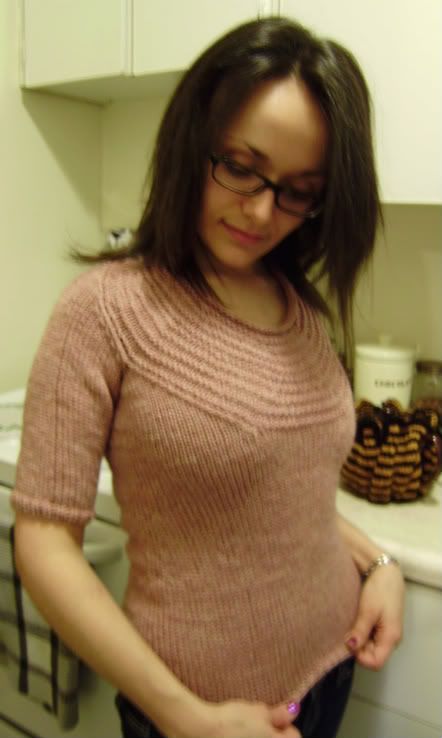 Pattern: Arethusa
Yarn: a few balls of Patons Classic Wool, in a pretty heathered pink
(I think it was about 3 balls)
I saw someone wearing a sweater that had purty garter ribbing around the yoke. My attempts to replicate that didn't really live up to my expectations, but Arethusa is a wearable knit nonetheless.
Generally I shy away from the pink yarns, but this one floated my boat. The heathering of the pink made it more palatable for me. I wanted a lighter-shaded yarn to show off the garter rib details, and was impatient as this was the only good option - colour-wise - sitting on the shelves of Michaels at the time of my impulsive and impromptu yarn purchase.
I started out keeping notes on it, and I have decent ones for the entire body. But the neckline had to be re-done, and I never ever liked having to redo things. Thus, you have a unique knit, which was once a monkey-upon-back, but has morphed into a garment that I'll give a 8.5/10 on the wearability and happiness scale.
I could (and would, if knit again) improve on the neckline.
Unfortunately, it pulls a bit right at the bustline, which you can sort of see in the photo. I would also improve on the sleeve-ribbing, and use a needle that's a step down in size so as to avoid the slight puffy-outiness that the sleeve currently sports.
(In an odd piece of trivia, Firefox underlines "purty" as a spelling error, but takes no issue with "puffy-outiness". And here I was thinking I'd coined a ridiculous term!)