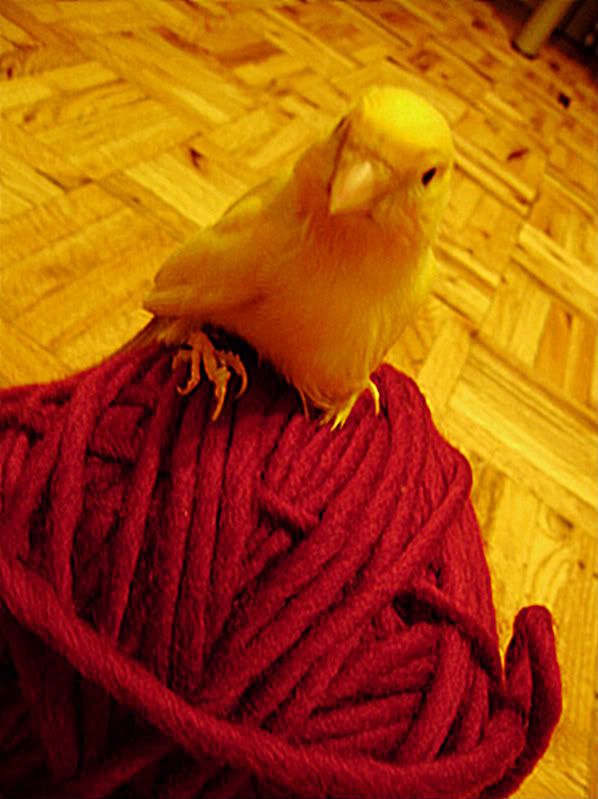 Turns out the best kind of canaries and the best kinds of yarn make an adorable couple, though perhaps not a happy one.

Here you see Butters, the unfortunate fowl who was chosen as subject for my evening-time amusement.
On an unseasonably warm and rainy Wednesday, I thought I could bring you a dose of funtimes.
~Linkys with Randomness Connextions to Funtimes~
Style.com
qualifies for the funtimes because it allows you to create your own login and "Lookbook", archiving your fashionistical tastes.
Etymology Online
has edified me personally in regards to the lovely English language and how freakin
1
weird it is.
1. 1563, "sudden turn of mind," probably related to O.E.
frician
"to dance". See more by following the link!
Zappos.com
. You like shoes, you like here.
Etsy.com
is fairly self-explanatory. Though I will add that sometimes it's very fun to just shop by colour.
(speaking of which...)
Colour Lovers
can play and have funtimes at COLOURlovers. Mood enhancement 101.
Some day I'd like to own a dog. Until that day, I have
the Dog Breed Selector
at Animal Planet (the best one I've ever come across!)