I swore that I'd have nothing to to with the fibre - seems I may have railed too soon.
Pattern:
Arisaig
Yarn: several (can't recall how many!) balls of Rowan 4-ply cotton
I did mod this pattern as is my habit. It's about 6" longer than called for in the pattern - all this is in the lower ribbing section. And of course I shortened the sleeves as well.
I'd been working away on this one for months - after I'd sewn in the sleeves I had been very displeased with my work, and thrown it aside, disdaining the work of knitting the ties required to finish it off. With all the extra time on my hands this holiday I luckily fell into an Arisaig-knitting-mood, finished it off, and am actually rather happy with it, despite my earlier misgivings. And, for any interested in knitting this - I'm not sure why, but good god the long tie turned out mondo long. Almost hilariously so. I can wrap it around my ribcage and still have some to tie the tie with. *Le sigh*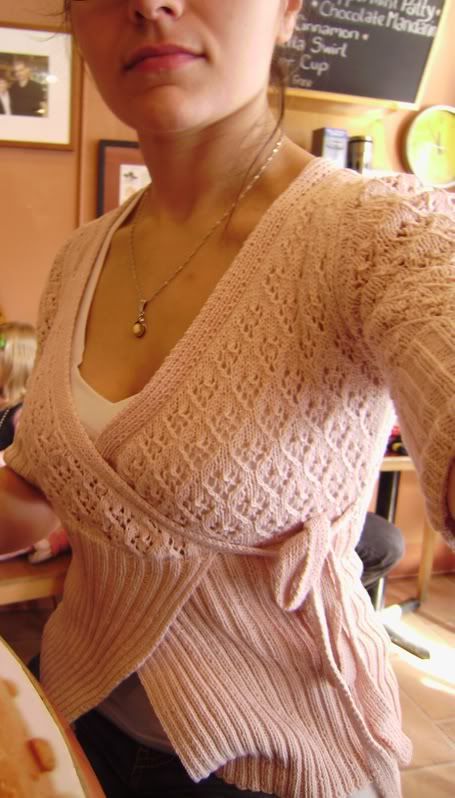 Photos were taken in a local bakery, after a lovely New Years Eve bagel eating and delicious coffee slurping. As you can see (particularly on the back) I made me a number of boo boos in the lace. I can live with it - humans are imperfect, why should my knits not be etc... etc... and any other array of excuses for laziness and a refusal to frog.
An important note re: fit.
I knit this one in the XS size - this being rather smaller than my actual size.
I just have this terrible thing against loose clothing and especially loose knits. As you can see it doesn't really wrap across my chest fully (which is what I wanted) nor does the wrap part beneath fit snug to the other side. I know you're supposed to have buttons or some other fastening method to hold it together, and I have as of yet to decide whether I should just seam it together or not. I sort of like the look of it unsewn. What thinks you?

Happy New Year all!