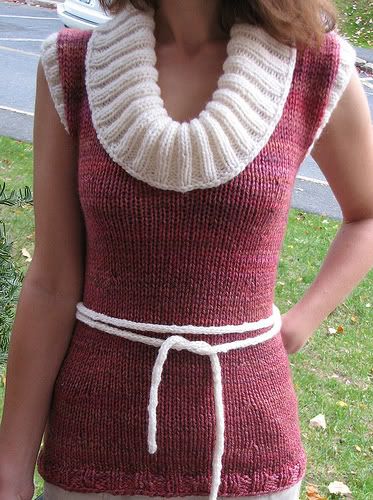 Designer: Inna
Rav ID:
Yantarik
Some Great Designs:
Yantarik's Rav Projects Page
As I've mentioned previously, I loooove (with five entire "o"'s) when I come across a designer whose project page is filled with personally designed knits. And in Yantarik's case, crochet as well!
Since her work is so consistently wonderful, pretty and invitingly wearable, it was quite a decision as to which of her pieces I'd picture in this post. The winner is, as you can see, her
Frosted Apple Tunic
, which has been sitting in my Rav favourites for over a year. I love the shape, the belt, the cowl, the cute little sleeves, the overall simplicity and (rather unusual for me) the combination of two different yarn colours. She's used this design element to great effect in this knit.
Drawing her inspiration from fashion - which I love! - the
Pineapple Tunic a la Escada Dress
is a beautiful example of what crochet can be. The colour is absolutely amazing; the lace works perfectly for a pretty summer dress.
And another one of my favourites? Her
Victoria's Secret Top
. This knit is a construction-brain teaser. The central lace star motif is gorgeously paired with a simple shape and solid yarn colour and looks truly elegant. Once again, I love the little cap-sleeves!
I've only listed a few of her brilliant garments here, so make sure to check out her Rav projects page.