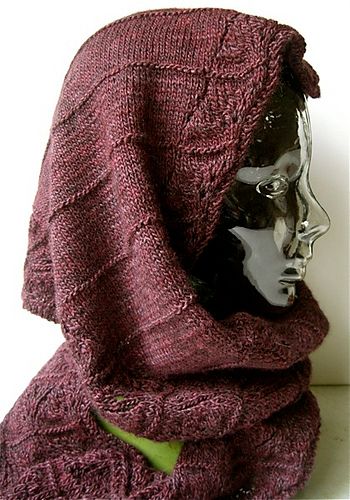 Designer: Carolyn Doe
Rav ID:
carolyndoe
Some Great Designs:
carolyndoe's Rav Designer Page
Look to this designer for accessories with interesting shaping.
First I'll point you to her
Waves of Lace Hooded scarf
(pictured). I really like how simple this shape is; Carolyn has used the drape of the yarn to help create this hood in an otherwise flat knit.
The
Bulky Topless Toque
is a great hybrid hat/earwarmer. It's got a cozy, deep brim and interesting cable that would show off some warm, wooly hand dyed yarns beautifully.
Her
Swan Creek Beanie
uses ridges and folds to create a really cool texture in an otherwise simply shaped hat. Contrasting coloured yarn can be used on the ridges to highlight the shaping, which is visually interesting and unique.
And finally I'll point you to her
Winfly Hat
. It's a sturdy cloche shape with a brim cable and ruched look to the crown. The split in the back brim allows you to get creative with button options.
She has over 60 patterns; you should go check out more of her profile on her Ravelry designer page!