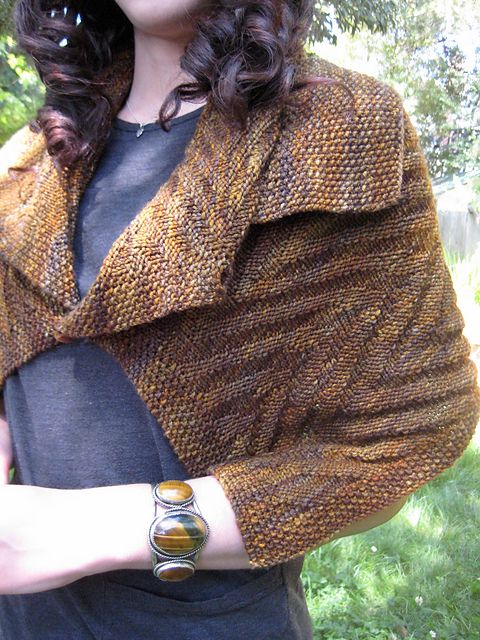 Designer: Amy Keefer
Blog:
Amy Keefer
Rav ID:
BlaerKnits
Some Great Designs:
BlaerKnits' Rav Designer Page
Oh so timely!
No sooner did I locate this designer and her great style, than one of her pieces gets published in the latest Interweave Knits magazine!
First, to the pictured
Tiger's Eye
. This versatile piece can be worn as a hooded wrap, shawl, poncho or a cowl. It's a simply dramatic knit, one that will see you through seasonal change and be able to adapt to many occasions and situations.
There's also the colourworked
Topaz Hat
. A toque with interesting texture and depth, this piece can work just as well for a man's knit as it would for a woman's.
Finally, I want to point out the beautiful new pattern she has published in Interweave Knit's Fall 2012 issue, the
Downton Pullover
. Just look at that colour, texture, sleeve puff, collar, and wonderfully detailed cuff!
I really dig this design.
I'm happy to report that the designer says she has "...a lot of projects on the needles for release in the coming months." One of the upcoming designs is a wedding shawl she's designed for herself, in gorgeous indigo dyed merino from Swan's Island, made up of modular lace triangles. Sounds beautiful. Can't wait to see it!