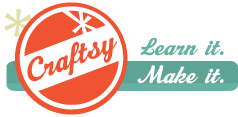 Have you heard of
Craftsy
?
If not, let me tell you, this site is fantastic!
It's a community for a wide variety of crafty endeavours (knitting, sewing, gardening, jewellery making and even cake decorating).
You can download free and paid patterns, share your projects, and enroll in classes.
Oh, the glory of classes!
I've always thought I could easily be a perpetual student. Craftsy's helping me return to my undergrad (in a manner).
You can enroll in interesting classes like Knitting with Beads and Spindling: from Fluff to Stuff. The classes range from beginner's classes to more advanced topics.
If you're unsure if an online course is for you, they have a few free options.
I've taken
Short Rows
with
Carol Fuller
. It's been really great to experience the class platform. It's very interactive and useful. You can make little notes as the video rolls along, pause, return, redo, relearn. The classes are always there at your fingertips, ready for you whenever you're ready for them.
I'm also in the process of taking
Lace Shawl Design
with
Miriam Felton
and
Know Your Wool
with
Deborah Robson
.
Another cool aspect of Craftsy's courses are that you get to learn from well-known designers.
I'm wondering: what classes would you most like to take? I'm just waiting for the day they get a steeking class up there. That and double knitting!