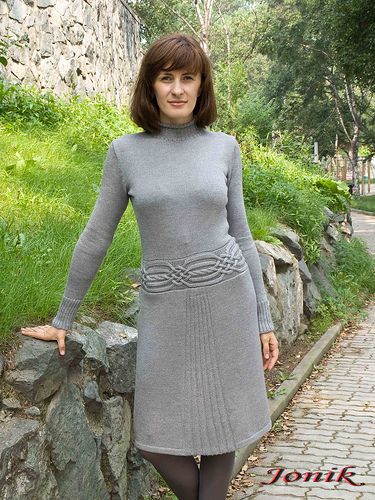 Designer: Jonik
Rav ID:
Jonik
Some Great Designs:
Jonik's Rav Projects Page
This week's designer, Jonik, caught my eye because of her interesting dress designs. I've taken a fancy to this garment, and have a couple of hers to point out to you all.
First is the pictured
Grey Dress
. With minimal detail, great interest is added to this piece. The converging vertical rib-line create a visual base for the intricate horizontal, belt-like cable across the hips.
Without the vertical rib detail, I believe the cable-belt would lose its beauty, and render the dress much less wearable/flattering. I love when a clever visual trick solves a problem :)
Next is her
Missioni Dress
. In this piece she's displaying her canny use of colour, where a unique palette combination harmonizes wonderfully to create a skirt that appears to have delicate movement, layers, and lacey-interest.
She designs garments besides dresses! Witness her
Blue Corset
- a pretty addition to a dressy, as well as a more casual, outfit. This would be a very pretty way to use up a couple extra hanks you have lying around and aren't sure what to do with (especially if you want lace, but have reconciled yourself to the fact that lace shawls just aren't for you...)