Designers: Emma Haigh and Lousie Sisson
Blog:
Loumms
Blog: Emma's
quelle erqsome...

Rav ID:
erqsome
and
loutheperson
Some Great Designs: erqsome's
Rav Designer Page
(scroll down to see their joint work), and loutheperson's
Rav Designer Page
Inspired by all the recent knit-year-in-reviews I've been reading, I thought I'd present a duo that are not only very talented individually, they're also commendable and demonstrably ambitious with their recently (and successfully) completed
Year of Socks
.
Design a pair of socks for every month of the year? How awesomesauce is that!
It might be a form of punishment to make me choose which is my favourite, but the most recent
Dawn of the Dead
socks (pictured) really rock my socks. (heh)
Both these designers have a great understanding of structure and texture.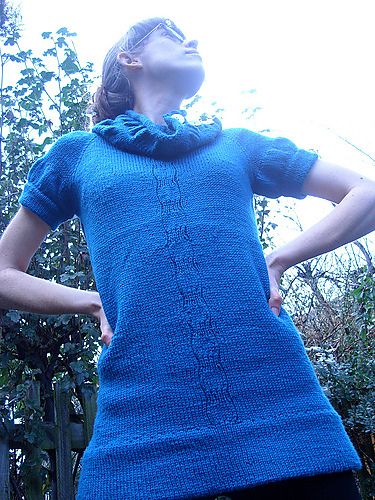 Erqsome's
Euonia Tunic
shows this off wonderfully; the shape and simple detail harmonize wonderfully with the pretty attention-grabbing cowl perched at the top of the sweater. Ruching, buttons, tunic and cowl all work together to create a lovely, wearable garment.
While
technically
this season has passed, it's also
technically
never too early to start thinking about holiday gifts (or just treat yourself to a mid-winter treat!) with loutheperson's
German Christmas Market Gloves and Scarf Set
. The yarn looks cozily scrumptious with this basketweave and seed stitch texture.
Clearly I, too, am being ambitious in taking on two talented designers for one post! Make sure to check out both their pages (and their joint designs as well). There's much more to see that I haven't touched on here.