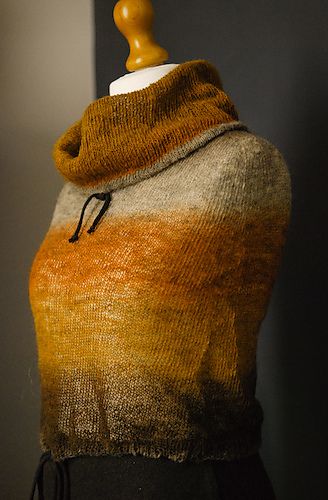 Designer: Brenda Burrell
Blog:
Artemis Adornments
Rav Group:
Artemis Adornments
Rav ID:
brendadada
Some Great Designs:
brendadada's Rav Designer Page
Only a few weeks ago, I featured one of the other members of Artemis Adornments
1
,
Boknits
.
This week's indie designer is yet another talented member of this group, brendadada.
Pictured is the very pretty
Seaham Sheer Poncho
.Check out the pattern page for many more beautiful colour combinations (but I think this one is my favourite!)
Her
Rigoletto Capelet
is another warm and wonderful looking piece. The talent and element focus you see with colour in the Seaham Poncho is echoed in gorgeously textured cables in Rigoletto.
And lest you think ponchos are her only game, check out the necklace with many possibilities,
Seven Sisters - Six Loops
. This piece can dress up a casual outfit, and I immediately think of the possibilities it holds for all those bits of left over yarn!
____________
1
More about Artemis Adornments:
"Artemis Adornments designs and makes interesting and original knitting patterns, mostly available to download and for free. We can also redesign your personal wardrobe, and we are beginning to make garments for sale or trade, including a range of hats, bags and modular bodycoverings in colourwork, cables and felts"
Members of the group:
brendadada, Lisa Procrastinator, Boknits, and Anna Kuduja