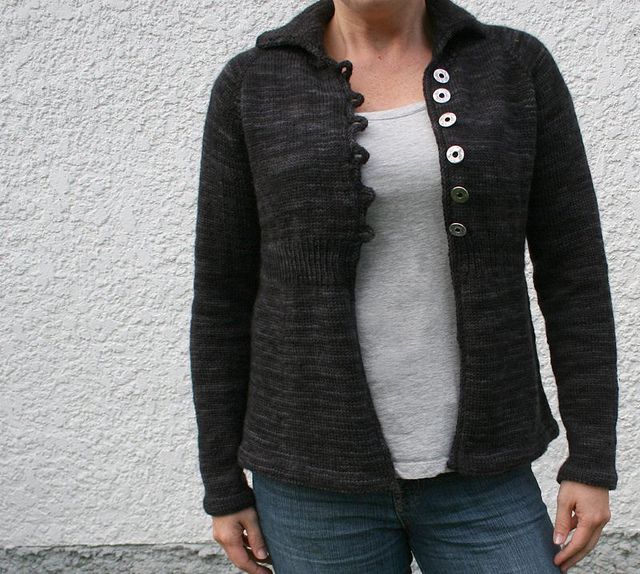 Designer: Christina Harris
Blog:
Doodles in string
Rav ID:
Doodle
Some Great Designs:
Doodle's Rav Designer Page
Finding out a bit about an artist (as designers are! Artists of functionality) is illuminating, and adds a certain depth and layers of appreciation to their work.
Doodle, this week's designer, has written this as part of her Rav bio:
"First I went to art school. Then landscape architecture school. Now I make parks and playgrounds."
Seems to me that something of her background comes out in her knits!
Take the pictured
Shadow
, for example. It has great structure, simple shapes with points of visual interest and originality in the button closure, collar and stitch detailing. I'm enamoured by the loops; I think the next time I make a garment that needs closures, it'll be loops, not button holes!
Something of the playful appears in Doodle's
1/4 lb. Cowl
. The cable and button details are lovely, but I particularly like the added "twist" - that is, the cowl wraps twice around your neck before you fasten it. Extra warms, and a little stylish flair (as I'm sure the extra bulk of cowl can be fancifully manipulated to peek attractively out from the top of your coat!).
And with yet another garment type, Doodle brings us the colourful
Seeds
. This hat has artistry (with the right amount of colourwork for interest, brightening up a possibly otherwise monochrome winter landscape!) and it also has functionality (see the extra lining around the bring - gotta keep those ears warm!)
Looking forward to seeing more of Doodle's designs!