Rooster vs. Rooster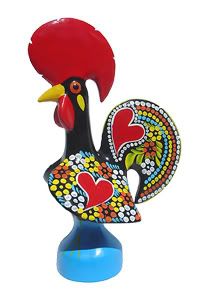 This year I've decided to make my grandmother a rooster... a lucky rooster!
This guy (clearly, my sewn version on the left) is from
a folk story
and is a good luck symbol. I just think he's rawkin.
I had a lot of fun sewing him up - I just used some quilting scraps, fibre-fill stuffing and a couple left over buttons from my
Gaets
cardi. I've got plans for a rooster family. This guy has to fly off to my grandma's, but his brothers are hatchin in me brain.
...and what, no knitting content, you say? That is true. As can happen, my yarnny machinations have overloaded and caused a short in the circuitry. I got on a colourwork kick, and have careened downhill from there. Now that my baking is
almost
done, and my present making is
on the verge of
completion, I think my mind will turn back to tricot and I'll have some defo progress to show before Ludi-christmas (I've been on a 30 Rock watching kick!)
They're calling for a massive amount of snowfall this weekend - fingers crossed for a SNOW DAY tomorrow! *grinny grinny*