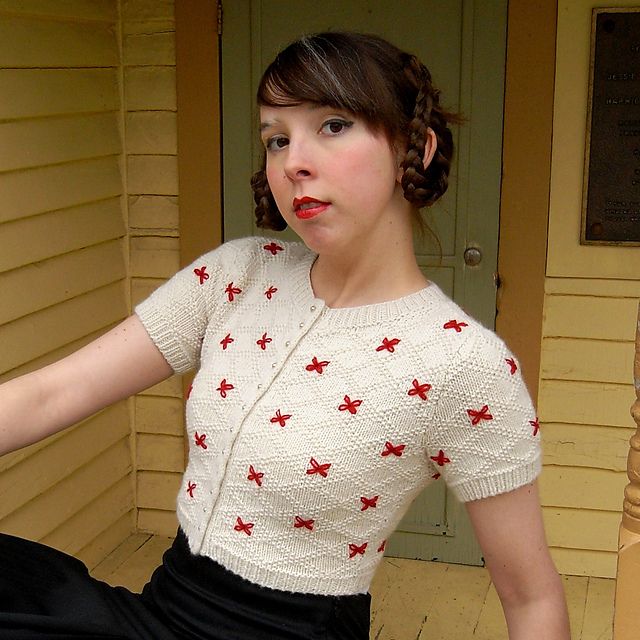 Designer: Elizabeth Wolden
Blog:
Cotton Gin and Tonic
Rav ID:
BethWolden
Some Great Designs:
BethWolden's Rav Designer Page
Original Indie Designer Post:
October 1, 2010
Last time I profiled this designer I wrote that I "I love love love (times three, that is. To the factor of awesome!) the whimsy in her designs."
That is so still true.
Check it:
Henrietta Maria Cardigan
.
How cute is that? It's polished and adorable, retro and wearable. And, I must say, styled wonderfully in the pattern pics.
The prospect of learning to properly embroider on knitted fabric is made much less intimidating (at least, to me) if I have this beauty as an FO in sight!
Featured in last October's Knit Magazine, the
Anne of Bohemia
pullover is a beautiful, simply-cut sweater with gorgeous, tapestry-like colourwork detail at the neckline.
She's also published an ebook with men's patterns.
The Old Rice Hotel Cap
is part of this book. It's a great combination of her fanciful style applied to a men's (or unisex) knit. The very handsome woven plaid brim makes me think there's hope for my holiday knitting list: maybe I can knit something my brother would actually
like
to wear!
And for the sheep fans out there, BethWolden has the pretty
Meta Set
. A pair of mitts and hat decorated with lovely lovely sheep colourwork!
Check out her blog: she's got some really awesome lino cuts on there. Fab knitting art.