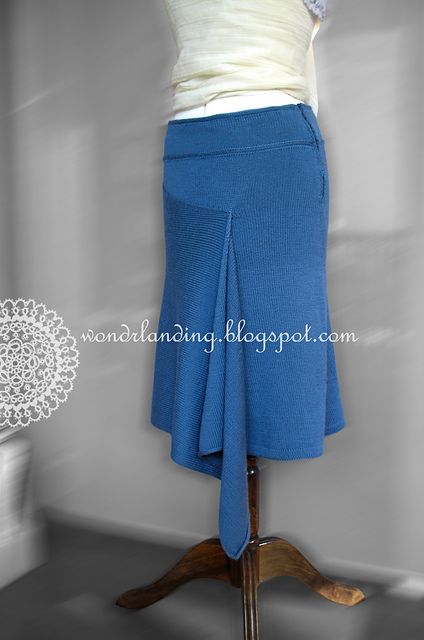 Designer: wondrlanding
Blog:
wondrlanding
Rav ID:
wondrlanding
Some Great Designs:
wondrlanding's Rav Designer Page
Ahhh, the knit skirt.
Personally, I think they're a thing of loveliness.
And, if you can get them right, it's a great mark of your ability as a designer.
Judging from the photo here, I think it's clear that this week's designer, wondrlanding, has some great talent!
The skirt,
Citta
, is designed with a zipper and sewn fabric lining, allowing for the structure to be kept in this long, drapey skirt.
She was kind enough to answer a few questions for me, and I'll just quote her right here:
"About my design inspiration and plans? Well, I studied textile design and architecture, and aspire to merge these two in my designs: like optically transforming the human body by pattern, drape, asymmetry, etc. In my next two designs I will play with layering and texture."
Exciting! I can see this attraction to the structural/architectural.
See her
Maura
and
Appia Hat
designs. Both have wonderful line and texture, creating simple beauty in each knit.
I'm really looking forward to her next designs!