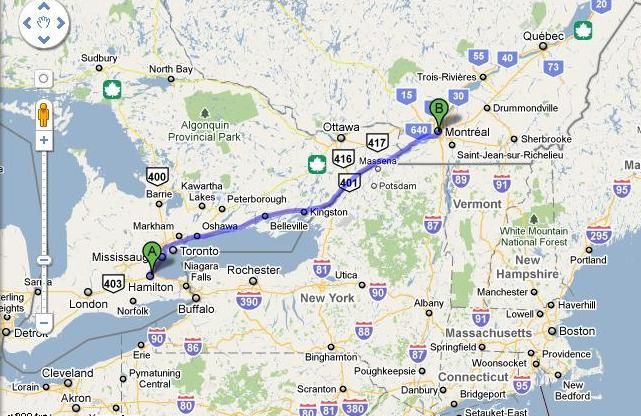 I bought me a cute little orange Pontiac Pursuit this summer;
1
I never thought I'd be a car person, but here we are.
Ever since he drove on into my life, I've been itching to get a road trip under my belt.
And lo, this weekend, I did.
Up to Montréal did a friend and I go, and reams of fun were had.
Excellent food was eaten,
beautiful artwork
was seen, and impressive churches were visited.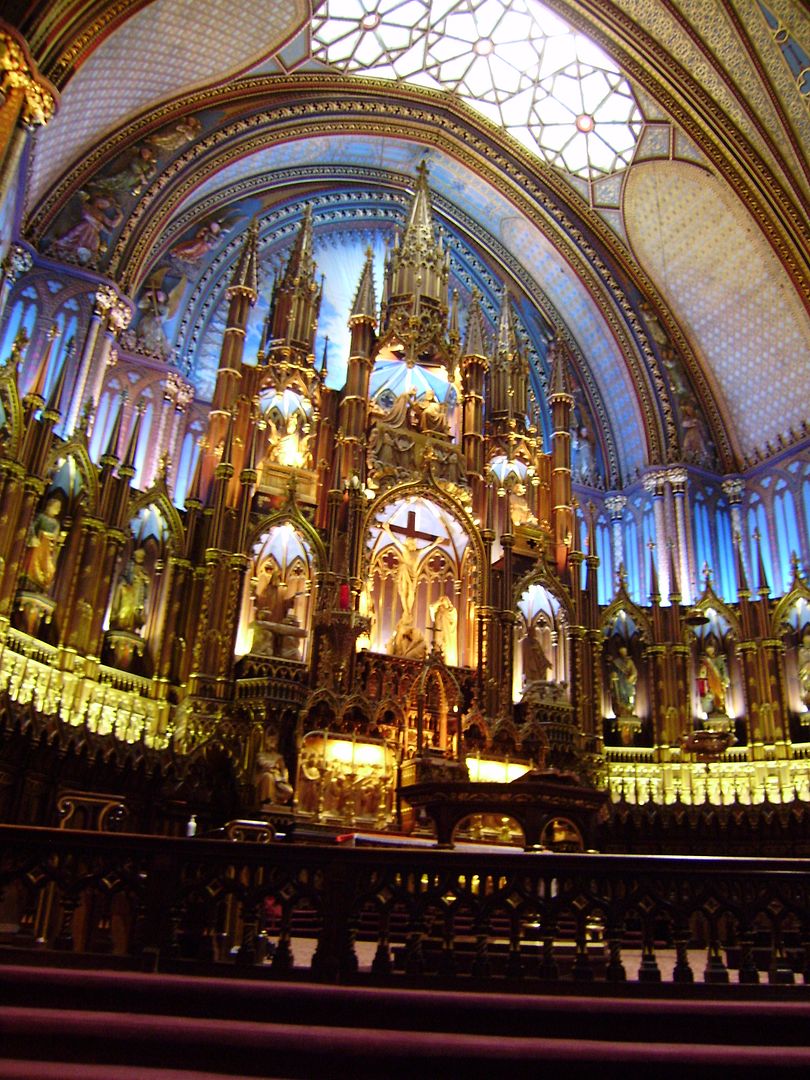 Notre-Dame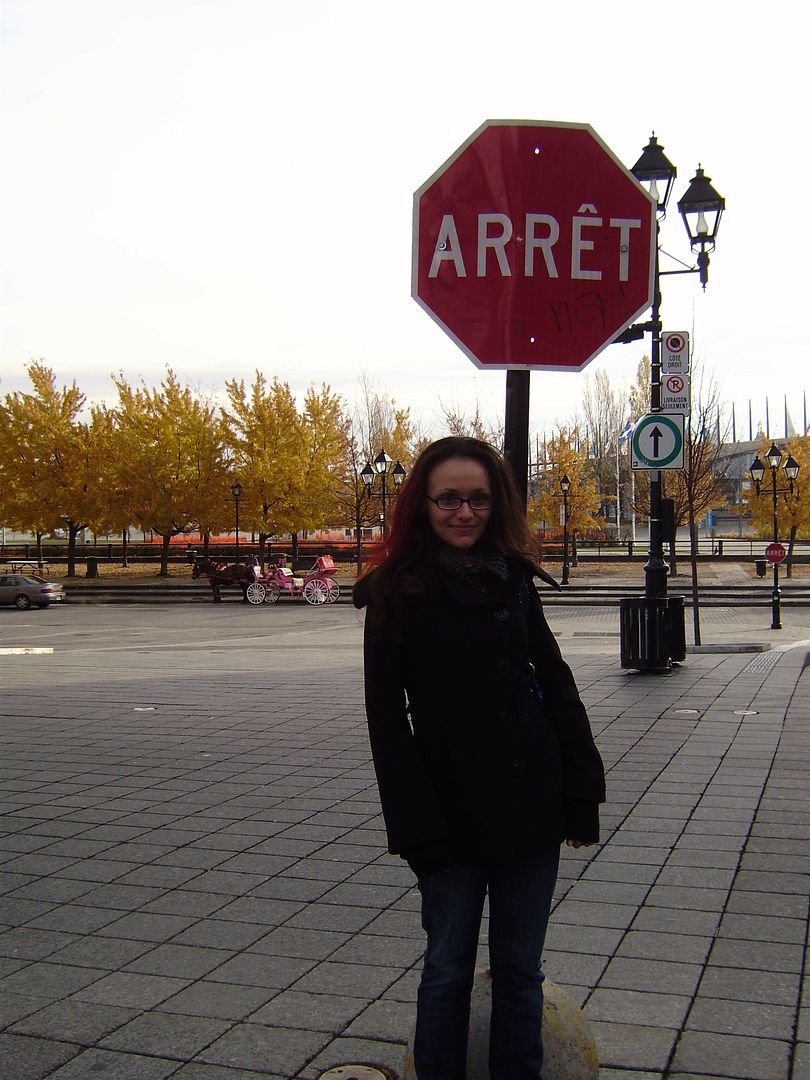 Me in Vieux-Montréal.
Possibly my favourite sign. Ever.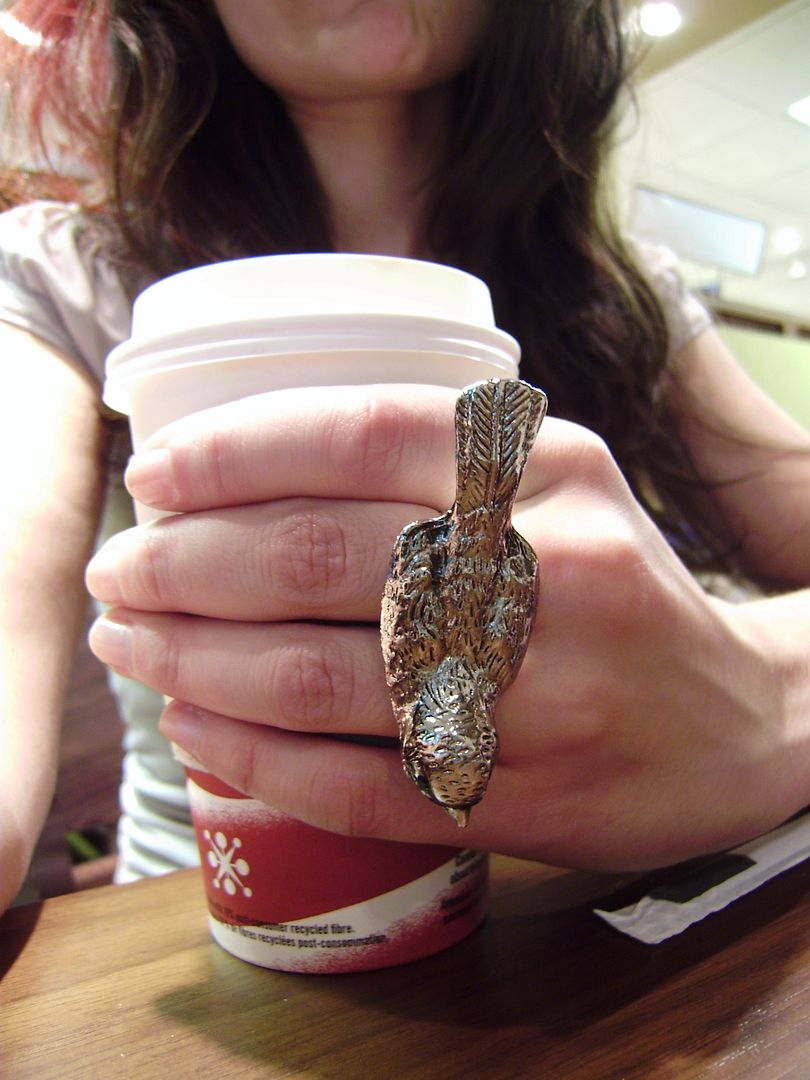 Bird ring from
Simons
, a Québec department store.
We had dinner Sunday night at
O.Noir
. Very, very cool. Here's a description of the experience:
Already the rage in Europe, Australia, L.A and New York, now O.NOIR - Canada's first-ever restaurant that invites you to experience food, drink and conversation like never before IN THE DARK!
"It's a sensual dining experience like no other"! says O.NOIR General Manager Moe Alameddine. "When you eat without your sight, your remaining senses are heightened to savour the smell and taste of food. Even simple, everyday dishes like potatoes or plain yoghurt take on a culinary flare".
You can choose your dinner and dessert from a menu, but you can also choose to have a surprise dish. I was feeling brave that evening, and opted for the mystery. It ended up being a tasty pasta with smoked salmon. And tiramisu. Yum.
As you may have noticed, I'm distracting you, dear readers, from any knitting content. Rest assured the wheels are turning. It's just an awful lot of secret knitting.
Restez à l'écoute!
2
1 Since I'm weird this way, I had to name my car. He's Palfrey. But I also refer to him fondly as the Orange Beast.

2 En Anglais, "stay tuned".