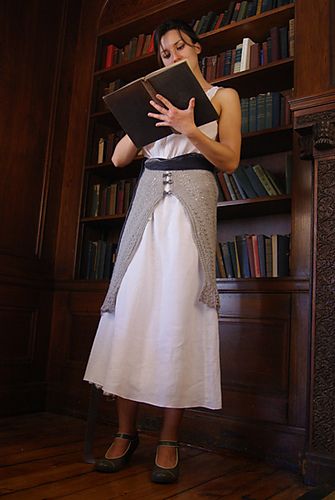 Designer: Beth Hahn
Blog:
Willow Rosa Knits
Rav ID:
willowrosa
Some Great Designs:
willowrosa's Rav Designer Page
Soft, flowing fabrics and muted, gentle colours recall an historical aesthetic in the designs of willowrosa.
Her recently released edition in the Miss Flitt Series debuted on October 23, and includes the beauty pictured right,
The Ether Overskirt
. This is the third part of the Miss Flitt Series, wherein willowrosa lets her historic vibe dance in accompaniment with her elegant and ethereal original artwork images.
I don't think I have to explain why I'm viscerally attracted to this design; it hits up all my favourite knitting elements. Historic? Check. Unique? Check. Awesomesauce lace? Check. Ribbon? Check!!
I'd also like to point out a couple of her patterns from the first part in the Miss Flitt series, The Strange Case of the Magician's Cabinet.
First is the
Annabel Lee Neck Cozy
. This sweet little design is functional and fabulous. This designer's attention to detail and thoughtfulness in her unique combination of visual art, narrative, knit pattern
and
backstory create truly rich compositions that may very well hinder on a Kandinsky-esque Gesamtkünstwerk
1
.
Second, see her
Amith Capelet
. I think my favourite aspect of this design is the adorable "flop" the collar does at the back.
And, more about the Miss Flitt Series, straight from the designer:
It's a serialized mystery with character-based patterns, and...
"I'm busy putting the final touches on my four-part 19th c. illustrated mystery with knitting patterns, The Adventures of Miss Flitt: The Strange Case of the Magician's Cabinet. You can read all about it here:
http://www.missflitt.com
" .
1Check out a definition here.