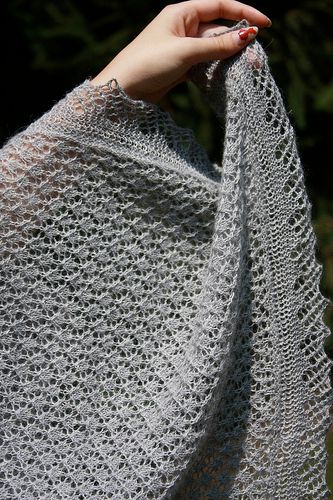 Designer: Holly Chayes
Blog:
Crafting Keeps Us Sane
Rav ID:
Neme
Some Great Designs:
Neme's Rav Designer Page
I love a good lace story.
Neme is great at creating these, with her artistically-titled
A Study in Grey
(pictured). Grey is the perfect complement to this light, airy, and classically simple shawl. The neutrality of this shade allows the all-over texture to shine.
Study in Grey inspired this sweet baby blanket,
Baby's Magic Blankie
. I'm mentioning it in particular to point out the interesting shift in appearance and aesthetic when different colour approaches are taken with the same (or, very similar) patterns. Of course, we can all see that the playfulness of the baby blanket colours make it more kid-oriented, but the rows of stripes also create a playful
movement
to the piece, as well.
And, in a great combination of lace and colourwork, there is Neme's recently published
Birds of a Feather Tam
. As you can imagine, I love me this hat. The little feather detail works terrifically with the burst of lace at the crown.