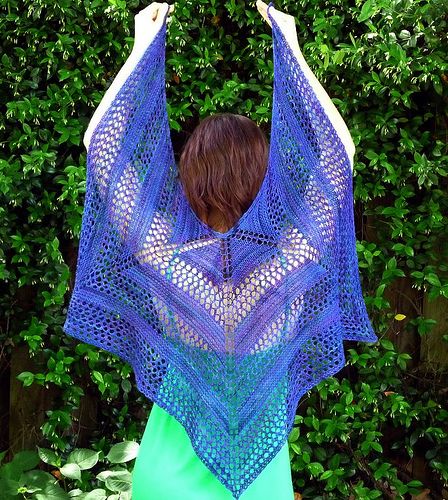 Designer: Tori Gurbisz
Blog:
Lachesis and Co.
Rav ID:
lachesis77

Some Great Designs:
lachesis77's Rav Designer Page
Ahh, a designer who seems to love ribbon in knits about as much as me!
(Evidence: check out her
most
recent
blog posts :) ! )
But, with a couple o' fab non-ribbonized designs, there's the
Vixen Shawl
(pictured) and
Belmondo Shawl
.
Vixen is a wonderfully airy, summery shawl; design characteristics which carry over into her Belmondo.
Both these pieces are versatile. The shaping on Vixen allows for a very interesting wear, and it's reversible too!
Belmondo can be worn in many ways. There's a bunch of great pics on the pattern page showing it as a shoulder-warmer, neck-wrapper and hip-hugger (this is the type of shawl that would look so-very-cute as a swimsuit cover up. W00T for summer knits!)
Hot off the presses: her most recent design,
Dulcet
, was just published a few days ago! It's one of them be-ribboned sweeties. Check it out!