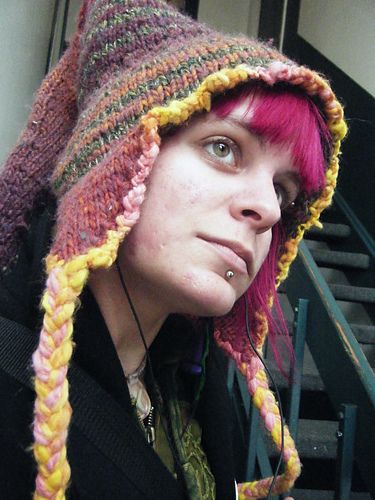 Designer: Bekah Stockwell
Rav ID:
ClaudiaThorn
Some Great Designs:
ClaudiaThorn's Rav Projects Page
I can't tell you how appealing and interesting I find this designer's work!
Take for instance her
Ridiculously long Peruvian Shaman/Elf Hat
(pictured).
Here's what she has to say about the piece:
"I needed a hat that would fit over my dreadlocks… and had some awesome heavy worsted red variegated yarn I wanted to use… so I improvised this hat on chopsticks!"
This, to me, is a fabulous way to play up the beauty of a handspun yarn. Her colour palette is amazing - but even if this were in a solid colour, the shape and texture of the hat would make it an appealing piece alone.
I'll also point you towards her
Le Fee Vert Victorian Collar
. This is another lovely knit with whimsical, historic character (that stuff always gets me!) I truly hope she continues designing, and (perhaps? please?) writes up a few patterns to share with all us knitters.
Soon.
Because really, I'm an impatient creature.
:)
ETA: You can check out her work on Facebook as well: just search for No Spectators Designs!