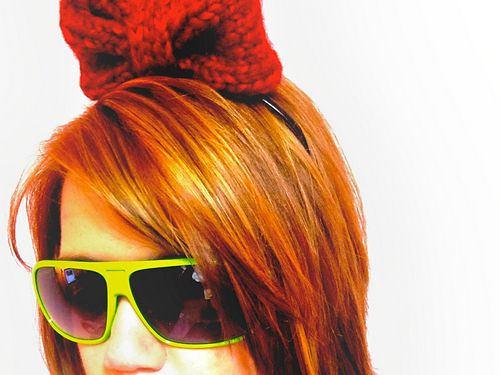 Designer: Caitlin Stopper
Blog:
Honeycomb Originals
Rav ID:
gooey
Some Great Designs:
gooey's Rav Designer Page
If gooey's
Anti Casualty
(pictured right) is any indication, I think we've got a unique and exciting new designer on our hands!
Here's a bit from the designer herself re: this design:
"I love Lady Gaga. I love her spirit, her wardrobe and most of all, her fearlessness.
She inspired me to be a little more daring when it came time to dress myself in the morning, but not all of us can wear spiked vinyl jump suits with stripper heels to work or out to run errands. Big version or small version, here is a little something to Gagafy your life."
This piece looks like a great way to use up those perplexing and lovely bits of bulky ends you may have lying around (and if you're like me, you've got a number of them!)
Another gooey pattern currently posted is the
Align Mitts
- a pattern designed to match Natalie Larson's
Star Crossed Slouchy Beret (which, incidentally, I've had on my faves list forever!) and a great way to use any end you may have leftover from said pattern.