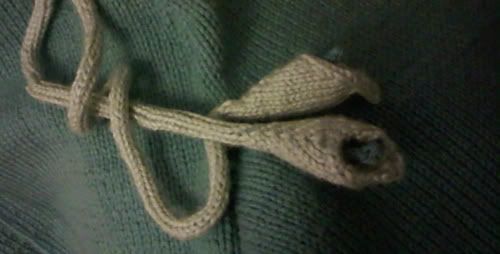 Designer: Tracy Laliberté
Blog:
Fanciful Flights
Etsy Shop:
Fanciful Flights
Rav ID:
Plucky
Some Great Designs:
Plucky's Rav Designer Page
As I sit here on a borrowed lap top, I have that familiar mix of lamentation and excitement at the first sprinklings of snow. I happen to be away for an educational program for work, and so have moved a latitude or two further north and am enjoying a cloudy and chilly Ottawan November.
While Mr. Winter is tentatively beginning his trudge across the months, I thought it would be nice to post a wee post about a flower-designing designer.
Here you see Pluckys lovely
I-cord Lily
, a pretty and delicate reminder that winter will indeed eventually make way for Persephone.
Make sure to check out Pluckys links provided above. There is plenty more to see on her etsy shop!