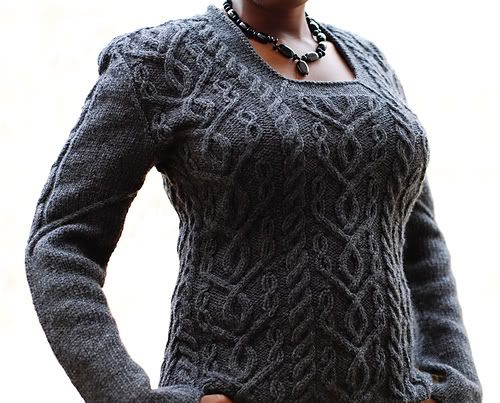 Designer: Lucy Sweetland
Blog:
a black pepper
Rav ID:
zebraknits
Some Great Designs:
zebraknits' Rav Designer Page
A visit to zebraknit's blog is a delight for your eyes. Hers is one of those blogs where you find yourself aweing in awe and twisting with envy at the cleanness of her design, the classic wearability of her knits, and the beauty of her photography!
Take for example the pictured
Lillian
. The sinuous structure and flattering shape make this a knit that can be worn for many years - I can imagine this pattern flattering people of all ages!
And speaking of sinuous cables, I think I might be in love with the slouchy loveliness of
Anemoon
. I really have something going on lately for the chunky cable, and this hat appeals for its shape, detail, speed of completion and obvious stylish wearability.
Now we've covered your torso and head, you can't forget to keep those arms and hands toasty warm with some gorgeous
Emerald Fingerless Mittens
. I really like the clean, geometric features of this knit, creating visual interest and texture with simplicity.
Srsly though, pop by her blog. It's currently transporting me to a lovely autumn day with golden foilage and the atmospheric sensation that makes your fingers itch to hold those needles.