A continuation in the discussion of Elements and Principles of Art in knitting...
Texture is the feel or appearance of an object or material.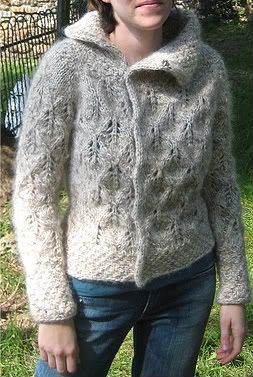 You can apply this element to a knit in a number of ways.
Firstly, you can choose a particular stitch, or number of stitches, to create a textured surface. This garment,
Fern Cardigan by Zeitgeist Yarns
, pictured left, is a great example. The over-all stitch pattern makes for a visually interesting and terribly inviting knit!
Coupling a couple o' textures successfully may be tricky, but Zeitgeist works it out quite well with an attention-grabbing fern lace as the main focus, and a subtle moss stitch for edging (incidentally, I really like the pairing of moss and fern lace styles
and
names. They were made for each other!)
The yarn you choose can do a lot of the work for you when creating texture in a garment. There are many varieties of textured yarns out there, I can't even begin to tackle that thoroughly. So, I'll keep it to just this sweet wee example.
The lightweight, halo-creating yarn used in this knit,
Cropped Lace Top from Vogue Knitting Holiday 2006
complements very nicely the varying, all-over lace texture.
One of the key ideas I keep in mind when choosing/designing knits is "what is the focus?" There are many elements that work together when creating a design (and analysing them via the elements and principles of art makes my organizational brain happy). The cropped top has used a neutral colour and classic shape, thus focussing attention onto its texture by making the other elements play "supporting roles".
And for a very clear example of design focus, we've got the
Gathered Pullover from Interweave Knits Winter 2007
. Simplifying other aspects of the top means that the texture, almost anywhere you placed it, would be the focus. In this instance, it's even placed front and centre. That's where you're meant to look, and it's a very flattering design indeed. Draws attention to your face (shape of neckline, as well as cable itself). I've seen some lovely mods, where people have moved the cable down to just under the bust.
One day, when my knitting hours have miraculously multiplied and I knit this sweater, that's where the cable is going for me. Draw attention to the smallest part of your torso, and the garment will flatter!