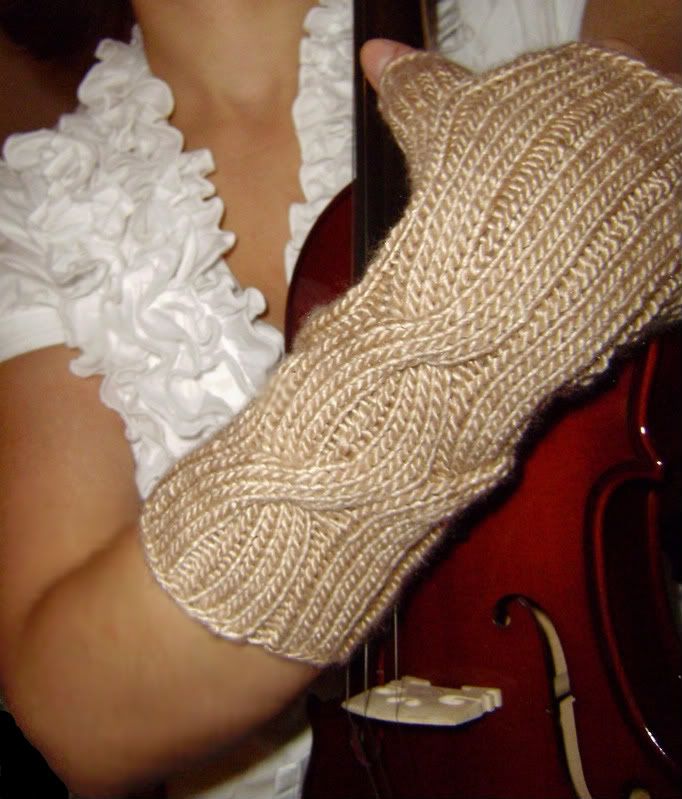 I'm antsy. This has affected my knitting.
So, instead of focussing on the sweater I'm hoping to complete before I leave for Europe, I've knit up a pair of
Dashing
Pattern:
Dashing
Yarn: 1.2 skeins of Louisa Harding Grace
Needles: 4mm dpns
Generally this sort of caramelly-camelly colour is not my bag, but it found its way
into
my bag at this year's Tent Sale at me LYS. I can't help myself around Louisa Harding Grace yarn. I love it so.
The theory behind this very (to me) boring and too-close-to-my-own-skintone-colour is that it'll blend in nicely with almost any outfit, and is (as the theory goes) infinitely wearable for slightly chilly days in Paris and the like.
As for modding the pattern (because you know I have to) I made it on 4mm needles instead of 4.5, and with a slightly smaller gauge I was able to end up with a finished product that actually fit (seeing as how this pattern is made with men in mind, it would most likely have been a touch large if I hadn't used the smaller needle/gauge).
Scintillating!
In other news:
The very eagle-eyed observers of this photo might notice that Lil' Bastard (as is the fiddle's name) is missing an E string. This is because I'm a terrible fiddle-mama, and am too strenuous with my ignorant fiddle-tuning attempts. Guitars are so much easier.
(and a piece of trivia: my electric guitar's name is Ares. The acoustic? He's no name. But he's missing an E string too. Something with me and E strings....)
And, in further other news:
Be forewarned, dear readers. I've vacation-brain, and will most probably be yakking about it from now til November. I'll try to keep it down.