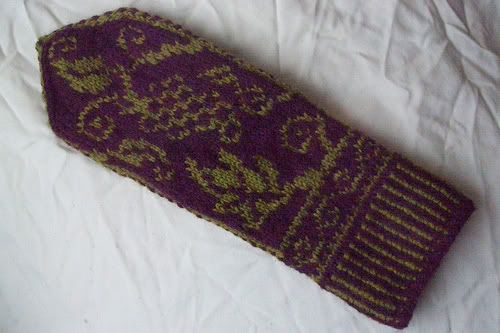 Designer: Emily Amelia
Blog:
Not Another Knit Blog!
Rav ID:
aemmeleia
Esty Shop:
FolkLore Fiberarts
Some Great Designs:
aemmeleia's Rav Designer Page
Sometimes I just call upon "happy thoughts" during my regular-ol'-everyday life. One of my happy thoughts are grapes. Yes, may sound weird, bizz-odd, even, but there were always grapes in my backyard growing up. Delicious, delicious grapes!
So, with the fantastical powers that Ravelry provides the knitting community, I decided one day to search patterns that had anything to do with grapes. The above-pictured mitt is the beauty-ful result of that search.
I guess I'm biased because of this here childhood memory, but I think these could possibly be the best colourworked mitts I've ever seen. I love them so much that I'm waiting to cast on, until I find the perfect yarn for this project!
The
Icewine Mittens'
wonderful designer, aemmeleia, is not only knittily creative, generous in her free-pattern offerings and multi-talented (check out her etsy shop, in the near future, for new additions! she makes lovely drop spindles), she's also got an imminent addition to her family on the way!
I must admit, seeing her sporting her recently finished
Tilted Duster
makes me realize that this pattern is worn at its best with a pregnant belly!
Another beautiful design she's created is the
Autumn Tea Cozy
. Very seasonally appropriate! It's really gorgeous - and it gives me a reason/excuse to buy just-that-one-ball of Noro Kueryon that I inevitably come across when
perusing
frolicking through any LYS.
_______________________________
Thanks to all readers for your positive response to this weekly featurette! This will be the last Indie Designer profiled for a few weeks, because I am off very soon for a long-overdue trip across the Atlantic. The featurette will return upon my... return!