Woo woo! Blog Tour stop for Holla Knits Accessories!
I have this great honour today, and I've chosen to do a few things on this tour stop:
1)
Have a wee look at the pattern I've designed for this new publication, Knight Service.
This is a fun little piece, which is basically a solution to my desire to have a little (just a little!) bit of Lady Gaga about me. It's also a stress-free way to get the beading bug satisfied. I've beaded with tiny, tiny seed beads before, and let me tell you, working with something that has a 2+mm opening is a *dream*.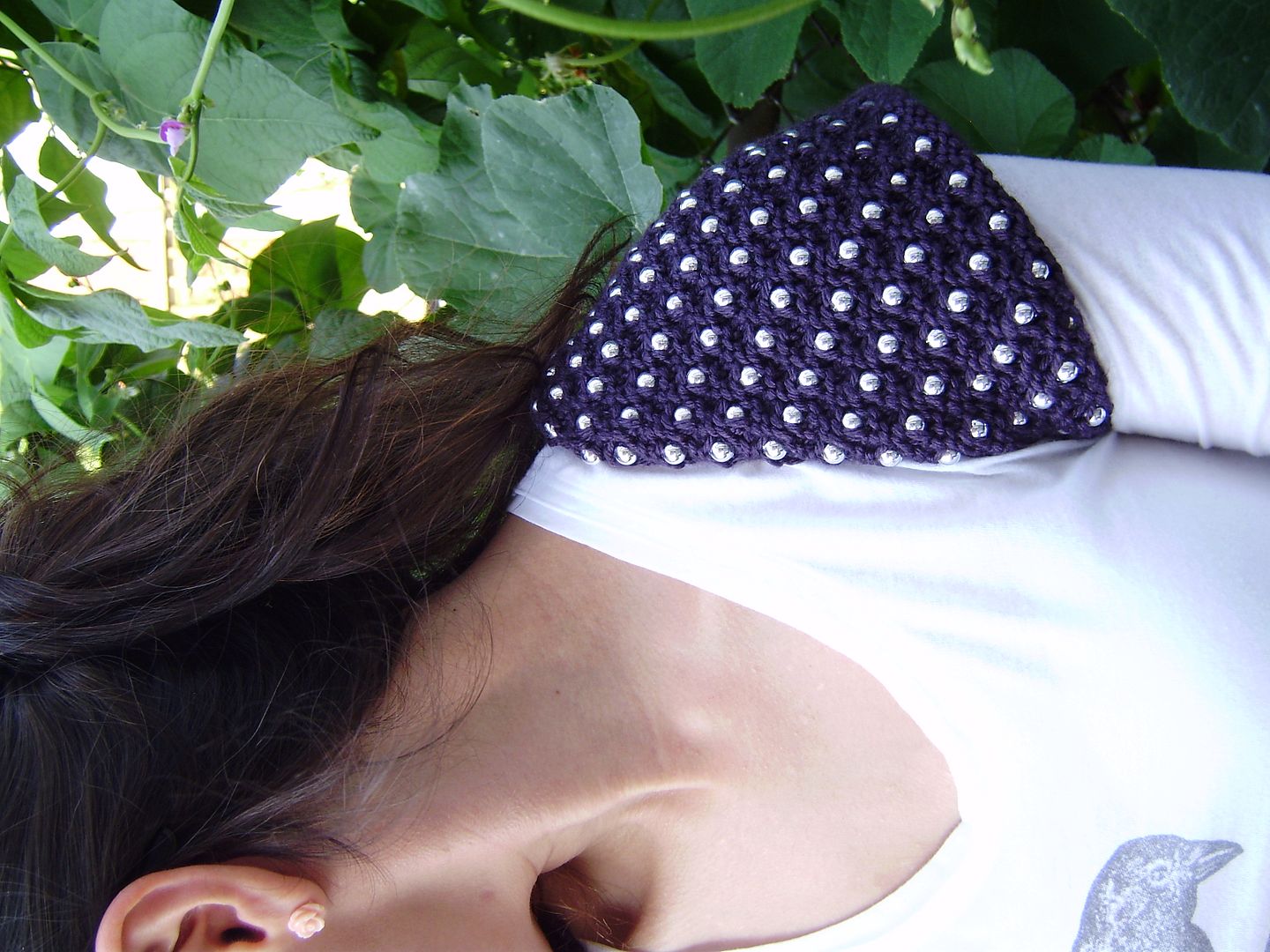 2)
Go on about how great all the other patterns are!
I actually didn't get a chance to see any of the other five patterns in the Accessories collection until just before publication. It was such a great treat! I love them all!
There's
Scallop of the Sea
, a pretty, oversized clutch that serendipitously managed to align with my newfound addiction to sewing. This pattern lets to stretch out your intarsia muscle, but also gives you the opportunity to shop for some lovely fabric to line the bag, and practice your zipper-sewing skills.
Black Swan
is something that looks like it needs to be in my wardrobe right now. A super cropped top (or perhaps rather long, sleeved cowl?), this is something that would be a quick knit, and add interest to a plain, everyday outfit. I hope my description's intrigued you! Go look at the pics. It's cool beans.
The
Wallpaper Cowl
is such a great combination of delicate pretty and bright and trendy. This knit has such great potential to allow you colour-play freedom. Imagine the combinations you could create on both the exterior damask-like print and solid interior!
A cute little bag with a long strap,
Multiplicity
is both functional and fashionable. I can't count the number of shops this season carrying small bags with long, cross-body straps. And, to make this extra attractive to a knitter, it has some fun colourwork (double knitting, to be precise).
And I had to end with my favourite (though it is rather difficult to choose!), the
Snowball Bonnet
. You might have noticed lately that I have a
thing for bonnets
, so when I saw this one I nearly had a knees-weak situation. Not only is it a bonnet, but it's a bonnet with the same sort of style that I *love* in my knits. The sort of style I try to weave into my own designs. This is a dream bonnet. And let me tell you why:
-check out those long, wide straps!
-love the loopy texture of the bonnet itself. Knitterly challenge ahoy!
-it has pom poms people. Pom poms.
So yeah, we all need to go out and knit us some of that.
3)
I'd like to give you a chance to win a copy of Knight Service!
You can enter to win by leaving me a comment on this post, letting me know
how you heard about Holla Knits
. I'll keep the giveaway open until Friday, October 26 at 11:59 pm EST, and announce the winner on Monday, October 28.
I'll share my story: I came across this fairly new knitmag on the Designers forum on Ravelry. When I saw it was young and fashion-forward, I knew it'd hold some great patterns that'd be right up my alley.
4)
I also want to point you in the direction of the rest of the Holla Knits Accessories Blog Tour.
Check it:
October 8:
The Sweatshop of Love
October 9:
Under the Red Umbrella
October 10:
Rohn Strong
October 11:
Emma Welford Designs
October 12:
Knits in Class
October 15:
Bumblebirch Designs
October 16:
Audrey's Teashop
October 17:
Gynx
October 18:
Adaly Myles Place
October 19:
Canary Knits
October 22:
Webs Yarn Store Blog
October 23:
The Sweatshop of Love Hosts Homestead Heirlooms!
October 24:
Knitted Bliss
October 25:
Stash, the Knit Picks Staff Blog
October 26:
Holla Knits hosts Tara Shade!
Good luck everyone!