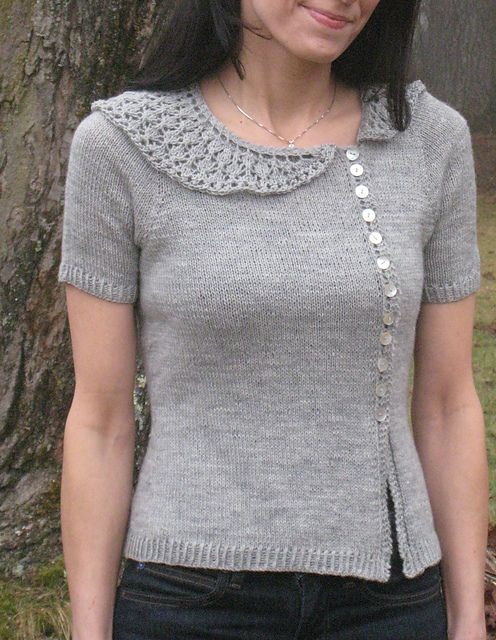 Designer: Mary Annarella
Blog:
marymealittle
Etsy:
maryrock
Rav ID:
marymealittle
Some Great Designs:
marymealittle's Rav Designer Page
My knitting friends like to joke about me and my affinity for the small-yarnned. "Oh, just wait. Teresa's gonna show up with a sock-weight onesie some day!"
I say, they shouldn't be giving me ideas. I'm very suggestable ;)
Knowing my love of lightweight yarns, it should come as no surprise to you that I'm waydeep in love with marymealittle's design style.
Tending toward the fine gauged, I've listed three here to whet your appetite:
Iolanthe
(pictured) is so pretty and delicate and feminine while remaining young and fun. I'm always a bit leery of using lace in my own designs... perhaps an unfounded fear of looking "old-lady". But this lace, this collar shape, this cute succession of buttons and off-centre front opening make this a fantastic marriage of lace and youth.
Making Waves Cardigan
makes use of another (sometimes) overlooked design element: ruching. Gawd I love this ruching. It's done so well in this small gauge, placed along the front edges and collar, adding just the right amount of detail to this simply-shaped cardigan. Bravo.
Finally,
Posy Cowl
again capitalizes on the strengths of a fine gauge. You can't get that beautiful, fine texture and cables with anything else. Stunning.