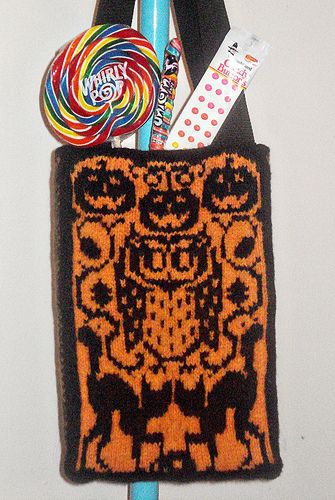 Designer: Thea Eschliman
Blog:
Lick the Light Switch
Rav ID:
wonderfallz
Some Great Designs:
wonderfallz's Rav Designer Page
I'm so in the mood for Halloween. Without a doubt, my favourite holiday of the year.
And, while I have funstuff to share in regards to my very own Happy Halloween Haberdashery Handicrafts, I thought it might be cool to kick off this best of weekends with a spookily-themed project!
See wonderfallz's
Hocus Pocus Trick-or-Treat Bag
. Her Hocus Pocus eBook contains not only this nifty, topical, and very useful item, it also contains the matching
Hocus Pocus Cowl
.
A recent publication of the Sanguine Gryphon saw wonderfallz's pretty
Gotham Skies
socks released. This cool knit is part of the SG's Steampunk Fall Pattern collection.
Then there's her adorably pom-pomed
Pollen and Bubbles
toque. I love comparing her colourwork on this piece to her
Industrial Skies
cowl. Both are fantastic, demonstrating a good understanding of texture, space, colour and repetition, but in such fundamentally different ways!
The
Hera Mountain Ridge Shawl
is an attractive knit, perfect for that lovely hank (or two... three?) of yarn that needs to be shown off.
Finally, I'll direct you to her
Strands
, yet another lovely example of wonderfallz's skill with texture, rhythm and colourwork.