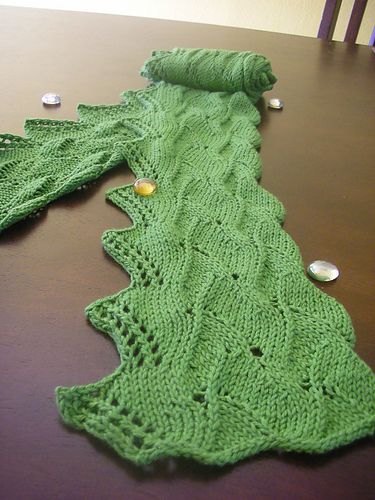 Designer: Crystal Adame
Blog:
Crystal Knits
Rav ID:
cadame
Some Great Designs:
cadame's Rav Designer Page
and
Rav Projects Page
As a new designer, cadame shows great adeptness with pattern and texture in her pieces.
Take
Morning Dew
(pictured) for example. The softly flowing waves of knit stitch are complemented by the more aggressive peaks, complete with delicate lines of yarn overs. All elements work together to create an interesting scarf (which, as we all know, are the best kinds to knit!)
Ripples of Grey
demonstrates this skill as well. This knit's texture looks so soft, squishy, warm and inviting! I hope cadame does post the pattern for this classic-looking piece.
And, I love to point out something a little different from designers: a very fantastic crocheted
Cookie Monster
.
I think that might be the perfect Cookie Monster blue!