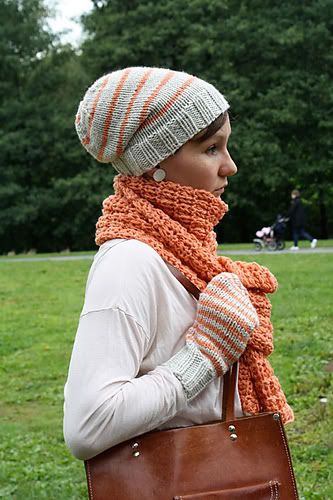 Designers: Anna & Heidi Pickles
Blog:
Pickles
Rav ID:
picklespatterns
Some Great Designs:
picklespatterns' Rav Designer Page
Serendipitously
1
, our profilee for this week is the talented pickles.
Here pictured is the lovely ensemble of
Hello New York - Scarf
,
Hat
and
Mittens
. I love the simple combination of an unexpected colour combination, along with the variation in pattern and texture. This makes the three patterns "go" without being matchy-matchy. I'm very inspired!
(Incidentally, I recently heard that 'you can always tell a knitter because her winter accessories never match'. I must admit I'm guilty of this charge meself. Perhaps this holiday season will see me make up a lovely set of Hello New York accessories!)
Stylish, casual and interestingly constructed, the
Baggy Bolero
made my list of pickles patterns to point out (amongst the many wonderful ones she has). Perfect for this time of year, and easily adaptable to the warmer weather, this knit is simple and attractive.
Finally, I'll also draw your attention to her
Warm winter mitts
. The wee bit of colourwork along the cuff gives these winter essentials a subtle touch of class.
Check out her designer page on Rav - it's bursting with loveliness!
_______
1
You can read about the supposed German Pickle ornament of legend
here
.