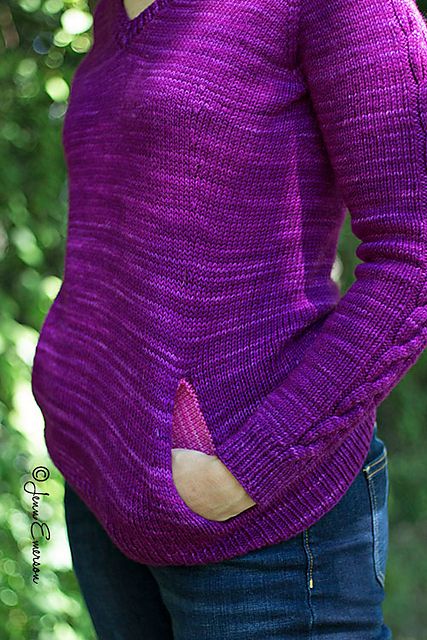 Designer: Jenn Emerson
Rav ID:
JennEmerson
Some Great Designs:
JennEmerson's Rav Designer Page
This week's designer has a mix of women's and kids designs, all really cute, relaxed, and colourful!
First up is
Lady Schenley
(pictured). HOW CUTE IS THE POCKET! Seriously, you almost have to look for no other reason to want to knit this. But I do have some for you, anyway: there's a
kid's version
, you have options for pockets or no pockets (choose pockets!), options for sleeve details, and if you so choose, you can have a simple, classic pullover. Super win!
Second, here's an adorable kid's skirt
Balletto
. Now, I did say kid's skirt, but it
does
run from size XS - XL, so I hold out hope that perhaps this fantastically be-ruffled riot of fun could fit my grown up self. Check it out at that link. Totally cute, right?
Finally, I'll show you guys her latest design,
Collina
. This is a simple and striking wrap that uses an overall texture to create interest and a feel of coziness. It seems like the perfect thing to have on hand for snuggling under in chilly times.
Check out the rest of her patterns on her
Ravelry designer page
!