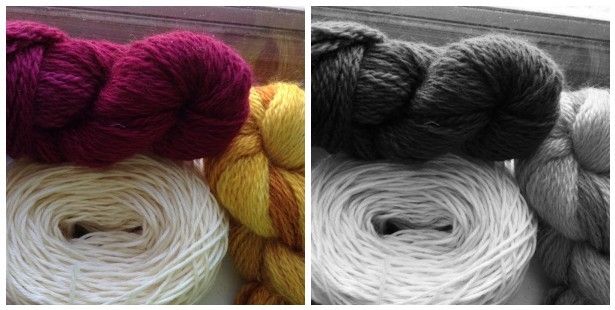 This is nearly a "what I'm working on" post.
It's still just a fermenting idea.
I picked up a few sweet little colourwork hanks from Fleece Artist in April, and so I'm dreaming about a cropped, colourwork yoke sweater.
One neat trick you can do to test out the suitability of colours is to photograph them together, and strip the colour from it by switching it to black and white.
Brooklyn Tweed has a great,
in-depth post
about how this process works. Basically, if you want distinct colourwork, you want yarn colours that, when switched to black and white, have distinct tones. They should stand out from each other. You can see how the wine coloured yarn is quite different from the gold and cream, but the gold and cream aren't suuuuper different from each other.
So, I'm wondering:
should I move ahead with these three colours?