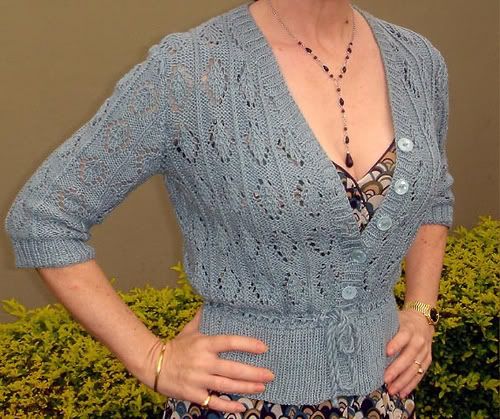 Designer: soobeeoz
Rav ID:
soobeeoz
Some Great Designs:
soobeeoz's Rav Designer Page
I love me my September.
Hints of the wondrous chill to come while the sun still shines on merrily.
A cool September breeze is stylishly kept off by sporting one of soobeeoz's lovely lacey creations.
(Her projects page is full of beautiful lace tops!)
Take for example her
Leafy Lace Cardi
(pictured right). The diamond panels even remind me of falling leaves! See the pretty
Red Leaf Top
for an even more apropos example!
I really admire her design-tendency to create a cinched waist. Two great knits in this fashion are
Pink Lace Trimmed Sweater
and
Serenity Lace Tank
. The sweater is perfect for this time o' year; a relaxing, easy-going project with enough detail to make it unique and interesting to knit. The tank is another seasonal piece - wear it with a tee or light sweater beneath! (of course, all this seasonal talk is quite relative. Soobeeoz lives in Australia. If anyone reading is from that neck of the woods, you can just reverse my suggestions, and save these cool-weather knits for cool weather!!)