Pattern: Swirlette
Yarn: Berroco Pure Merino, colour Meringue, 5 skeins
This is what happens when I like pretty yarn.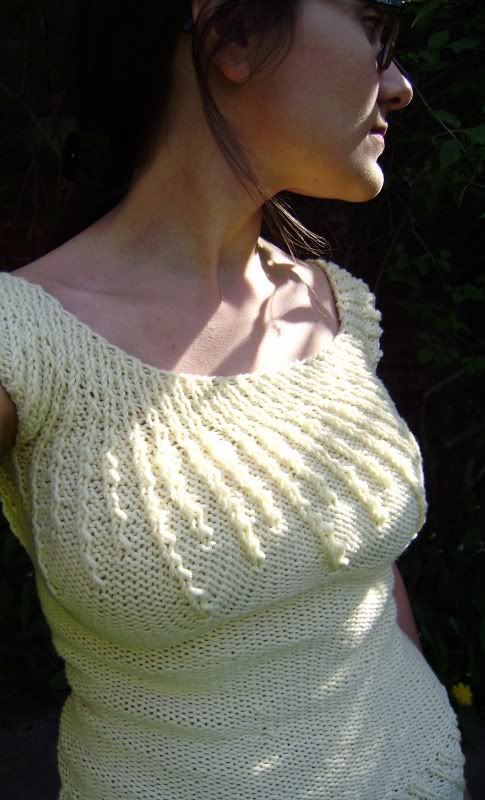 I saw the colour and the springyness of this Berroco and couldn't resist. Without much of a plan I cast on and improvised from there - it was one of those "de-stress knits" I mentioned
a few weeks back
.
In general, I would knit two rows (beginning with 1x1 rib), then on the 3rd row I twisted each knit stitch to the left. When I had to increase I would purl front and back, first on every third (or fourth, I can't remember) purl, then eventually even out the number of purls so that all the knit ribs were evenly spaced across the bodice.
There were a few issues, forcing several frog sessions, as well as a yarn run - needed a couple extra skeins.
(In this piccy on the right the twists serendipitously aligned with some purty sunshine to show themselves off).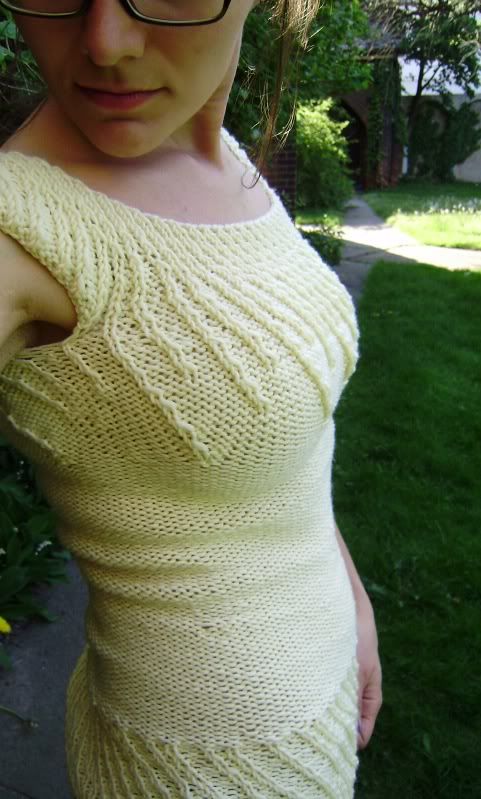 Decreasing was one place where I had problems. Had to add more stitches for the hips in a hurry, stupidly forgetting how much the twisting tightens the stitches and reduces stretch. The top also has this unfortunate tendency to puff out at the back, because when increasing for the bust I increased evenly around the entire circumference (you can sort of see the back-twists on the picture below).
The yarn is lovely and multi-plied for an interesting knit. There were more than a few instances of needle-catching-in-yarn, and my inattentiveness when re-knitting frogged areas led to a couple half-picked up stitches. *le sigh
But, as you might be able to tell, I had some great fun on this particular photo session. It's been an incredible few days round these parts, and I fortuitously entered this park garden and initially didn't realize why it smelled so damn good.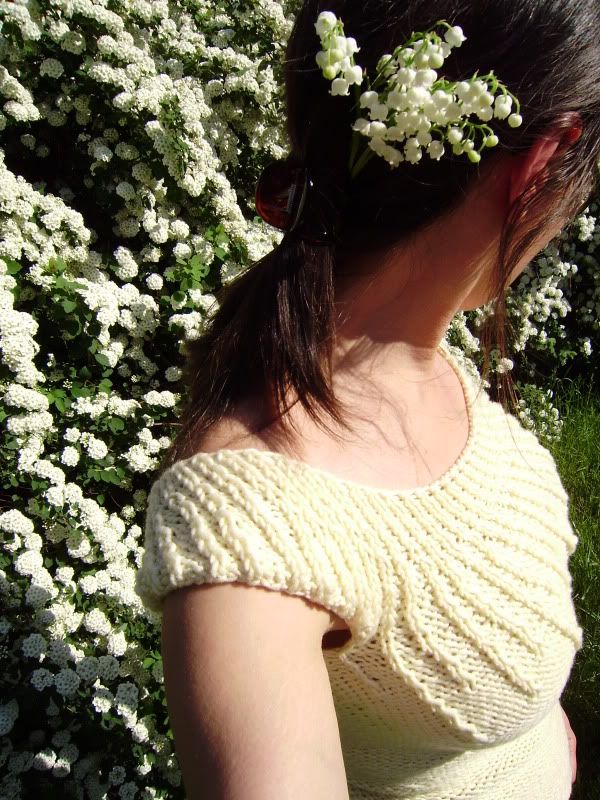 These lilies of the valley needed to be in my hair. And they came home with me.
All told, I'm fairly pleased with this "de-stress" knit.
Though, it has to go into hiding for the summer.
But, as is my way, the cold-weather knits get completed right before they can't be used.
Hooray for seasonal planning!
Do you have fresh flowers in your place?
Now that the lilacs are all zapped from the sun, the lilies have taken over.
Sweet goodness.