First I'd like to say thanks to everyone for your lovely words about Gaets! I hope to get the pattern done within a few weeks, but unfortunately can't promise it because of previous knitting commitments!
I've done some champion gun-jumping this year and allowed the holiday bug to bite me. I couldn't wait until December to set up the tree, so I did that already. Then the poor thing looked so sad without gifts under it, so I went out and did a purchasing sprint.
Then the selflessness set in and I decided to let go of some of the lovely things that I've been hoarding for myself in favour of spreading this happy bug to others!
You can benefit from my early-holiday-zeitgeist.
Today is the first in a weekly goodies giveaway that'll feature on this bloggy for the next 5 weeks. Each week the prizes will get bigger!
Just read the silly rhyme below, post your answers here (or message me on Rav, or even email me at canarysanctuary at yahoo dot com) and I'll enter your name for the draw. I'll be drawing the winning name on Saturday. Just let me know how to contact you, and the package will be on its way!
___________________________
'Twas the giveaway before Christmas and all you must do,
is answer three questions from me to you!
1) Do you purchase knitting books?
2) What's the average price you'll pay for a knitting book (let's say it has about 20 patterns in it)?
3) If you buy knitting books online, what do you think is a fair price for shipping?
... and here is what you'll get: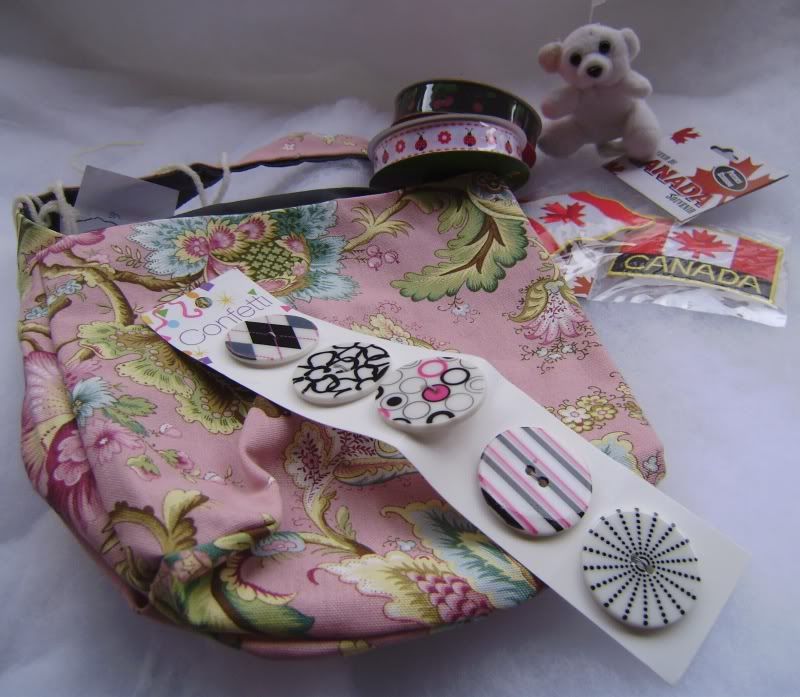 -one tiny little polar bear
-two "Canada" badges
-one handmade bag (measures about 9" deep and 9" across)
-5 buttons (each about 1.5" across)
-two rolls of ribbon (one black with red cherries, the other white with red ladybugs)
___________________________
Thanks all :)
In knitting news: I haven't much going on. At least not much that's blog-worthy. Gift knitting isn't all too fascinating! I'll be back with original designs in a while.