Quick one here: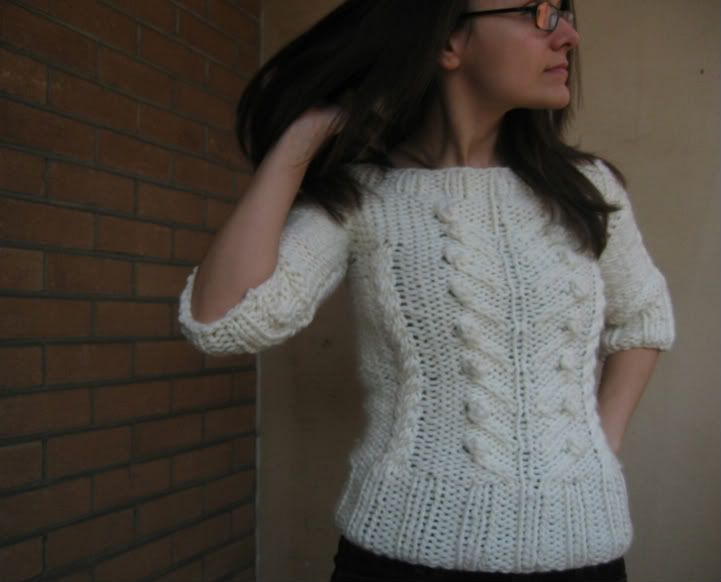 Pattern: A riff on Twinkle's Twiggy from her book "Big City Knits"
Yarn:
exactly
two hanks of Burly Spun, in Creme
Why it's a riff: Well, I only bought two skeins, and so had to compensate (re: uh, nip the knit, really). The sleeves are shortened, as is the body. The cable/bobble section doesn't reach down as far on the original (which is unfortunate, cause I really like that bit).
It has a selection of cringe-worthy boo-boos, (including a "creative" placement of cables) but it functions well as a heat-retainer and has allowed me to expand my knit-repertoire to included bobbles.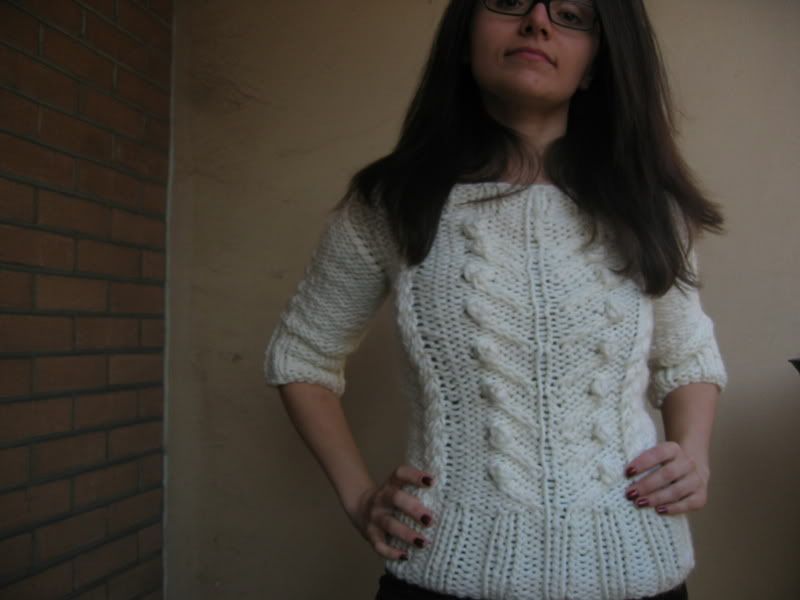 What are your feelings on bobbles?
I was of the camp that "bobbles is bad". I'm not sure I'm entirely
out
of that camp yet. Like anything else, bobbles can be overdone, but I think my issue with them is that it's just too damn easy to overdo them. But I really, really like making them. Anyone know of any particularly
graceful
bobble-containing patterns?
Ages ago,
Anthropologie
had this pretty vest.
I've been meaning to make a knock-off.
Admittedly, one of the reasons I've never got around to it is the bobble factor.
(and yes, it was much more stunning when it was up on the Anthropologie site and you could super-ultra zoom in and see all the textured details.)
Perhaps this one will sit on the "to knit" shelf until August, when I'll inevitably turn my mind to autumnal knits.
In other news: this morning was bee-oo-ti-full, and so I took advantage of the "sunshine" on my balcony and went nuts with the pics. As if you couldn't tell.
(I look so joyous in these pics, don't I?)
Despite my cave-like abode, the whole spring-time-scene has given me the nudge I truly needed to get into my warmer-weather knits. Ever since February I've been dreaming of some of the lovelies in the current IK. Bring on the cotton, baby!